IMPACT Tennis Academy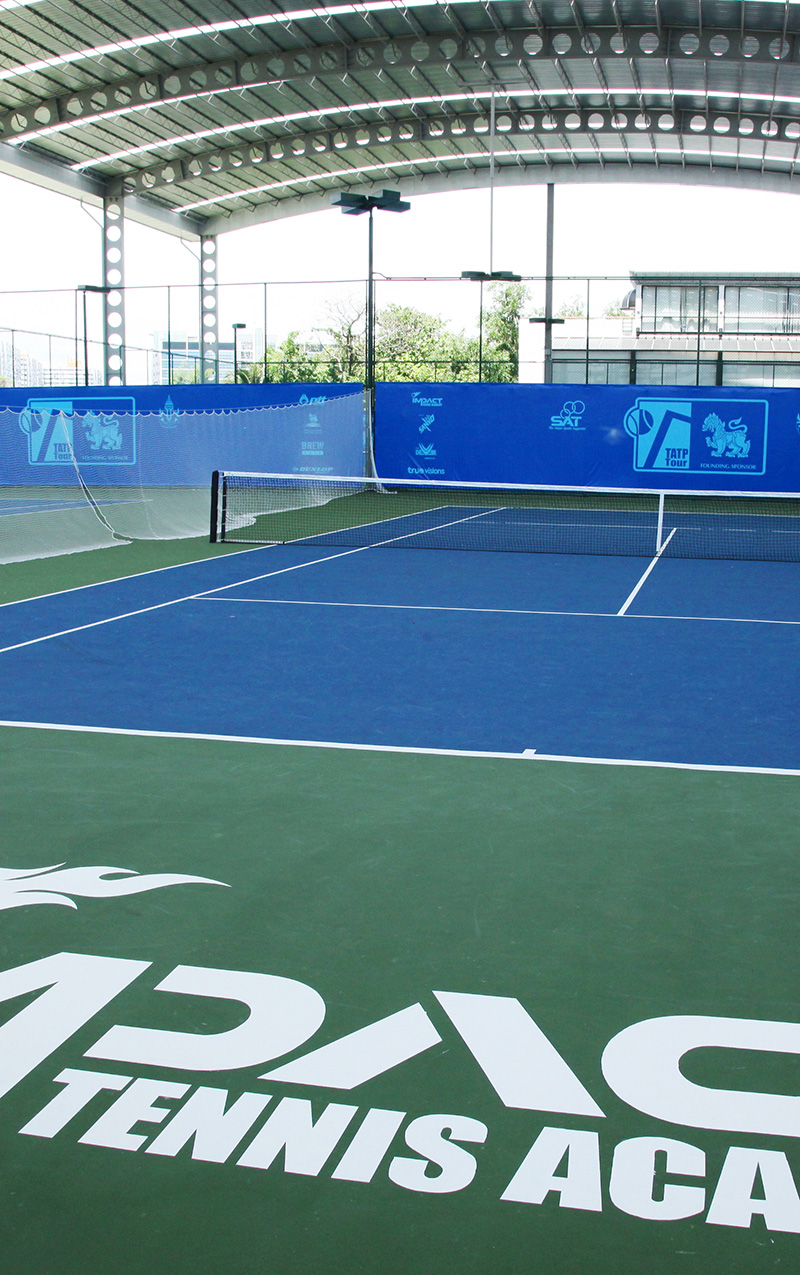 Based on the grounds surrounding the world class Impact arena where the likes of Mariah Carey, The Rolling Stones, Ed Sheeran, Bruno Mars, Maroon 5 and Beyoncé have performed as well as the site of the ATP Bangkok comes the Impact Tennis Academy established in 2013.
With US$2 million of renovations and upgrading works, this state of the art tennis academy was designed to fulfill the demand for a world class academy in Asia. IMPACT Tennis Academy has experiences, knowledge and facilities for competitive tennis players with the right attitude to congregate and chase their dreams of succeeding in tennis.
In 2019, we were named by Functional Tennis to be one of the best tennis academies in the World. We are the only academy in the region to make this prestigious list. We were selected based on
• location
• courts
• coach to player ratio
• what other players train here
• accommodation
• life skills taught
We have trained 12 top 100 ATP/WTA professionals and 8 ITF junior grand slam finalists
With 11 hard courts - 6 covered court and 2 authentic covered clay courts, they are imported from Europe and available to the full time academy players. We truly offer a training facility which can compete with any academies in Asia.
Base on Stephen's coaching, philosophy and experiences that have gained from 20 years of training and traveling with some of the top professionals, juniors and collegiate players, the impact coaching team offers an environment focusing on the player development and individualization in a constructive, informative and challenging environment. We are one of the best options in Asia for developing you as a player and preparing you for the tournaments.
If you want the opportunity to join and work with our team you will need to come for a two week trial
We are an invitational program with an entry criteria that is based on
- attitude
- ranking
- goals
- potential
- work rate
- coachability
- fitness level
- respect for others
- school grades
- character and integrity
- meeting with parents
- self discipline
- competitiveness
Please provide your current national , ITF, ATP/WTa ranking where applicable and the dates you are looking at coming.
We charge 1800 Thai baht per session. We do 11 sessions per week.
To allow for students doing schooling out Normal training hours are morning session 930-1230 and afternoon session 4-7pm.
If your level isn't high enough for the academy then we can arrange private lessons at alternative times at 2500-3500baht per hour to help you develop at your own pace and work on your game
Depending on your level of tennis and fitness we will help decide what is best for your tennis
We do not provide boarding however we are affiliated with the novotel Bangkok (around 2200baht per night) impact and ibis Bangkok impact (around 1350baht per night) and we receive preferential rates for all our players if we book for you. There are many other accommodation options and local apartments near the academy but normally it's easier to start in one of the hotels then look around
We do not provide food, however there are many restaurants nearby and shopping centers nearby - Cosmo, Bee Hive and Central Chaengwattana. More information about the area can be found on www.muangthongthani.com/en
We are not a big academy. We only accept a limited number players into our academy. A trial period is required for all new students. The main thing is your work rate and your attitude towards learning. Then the team of coaches will decide with you if it's a good relationship for both sides
Please provide Some video of you playing. Your current ranking. Your current coach. Your current fitness trainer. Your current schedule of training. And your goals in tennis